Overview
Caring with Compassion supports health professionals who care for socioeconomically disadvantaged populations: homeless, uninsured, and underserved patients. The curriculum introduces the bio-psychosocial model for the provision of personalized care for at-risk patients.
There are 4 main components to this curriculum: online modules, a downloadable version of the modules called "The Caring Book", a learning game called "Care Consequences", and a collection of implementation resources. For more detailed information, please review the For Educators section, including the formal Instructor's Guide. To access the formal curriculum or the Care Consequences game, create a free login. You will be provided with a personalized learning dashboard to track your progress.
At-Risk Populations
"At-risk populations" refers to homeless, unemployed, underserved, and/or uninsured individuals. Chances are high that most health professionals will care for patients facing these everyday realities during their career. Having a better understanding of their particular needs can greatly improve the quality of care provided.
This website and curriculum were created to help health professionals develop essential skills that will assist them in the treatment and referral of at-risk patients.
The following information on the at-risk populations was taken from the Caring with Compassion curriculum. You can download a printable PDF of the curriculum or login to view the complete, interactive curriculum online.
---
4 in 10 are unsheltered
Of the approximate 636,000 individuals who are homeless on a given night in America, nearly 4 in 10 are unsheltered, living in the streets, cars, abandoned buildings, or other places not intended for human habitation.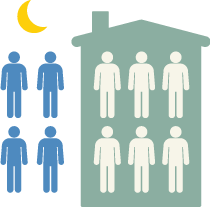 ---
Victims of Violence
About 1 in 8 of all homeless persons are victims of domestic violence.

---
Of homeless women, 9 in 10 report a history of sexual or physical violence.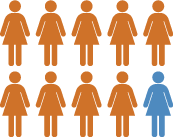 ---
Percent of homeless adults by Disability
17% of homeless adults in surveyed cities were physically disabled, and 30% were severely mentally ill.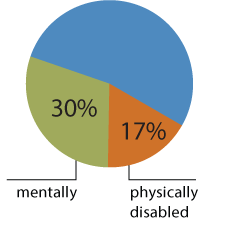 ---
Employment does not necessarily guard against homelessness
On average, 19% of homeless adults in surveyed cities are employed, and in some regions such as Boston, employed homelessness was as high as 33%.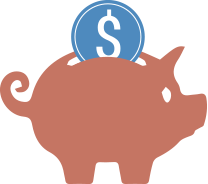 ---
Having to Choose between housing, food, and healthcare
For a family of 4 at the 133% federal poverty line the average employee healthcare contribution amounts to 28% of their income, well above the standard maximum of 10% that is considered affordable and far above the ACA premium limit of 8% of household income.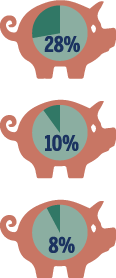 ---
One in Six
About one in six nonelderly Americans—48 million nonelderly people in the U.S.—are medically uninsured for at least part of a year.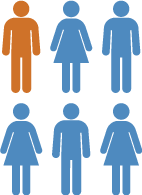 ---
A formal definition of "underinsured"
"Underinsured" status includes those for whom medical expenses total more than 10% of annual income.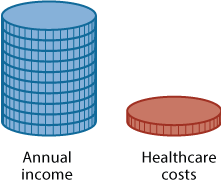 ---
Health disparities by race/ethnicity
Even after controlling for income, insurance status, disease severity, etc. there are persistent disparities by race/ethnicity for a number of diseases such as:
Cancer
Cardiovascular disease
HIV/AIDS
Diabetes
Mental illness
Routine treatments for common health problems